Luxembourg confirmed as host of WorldSkills Europe General Assembly 2024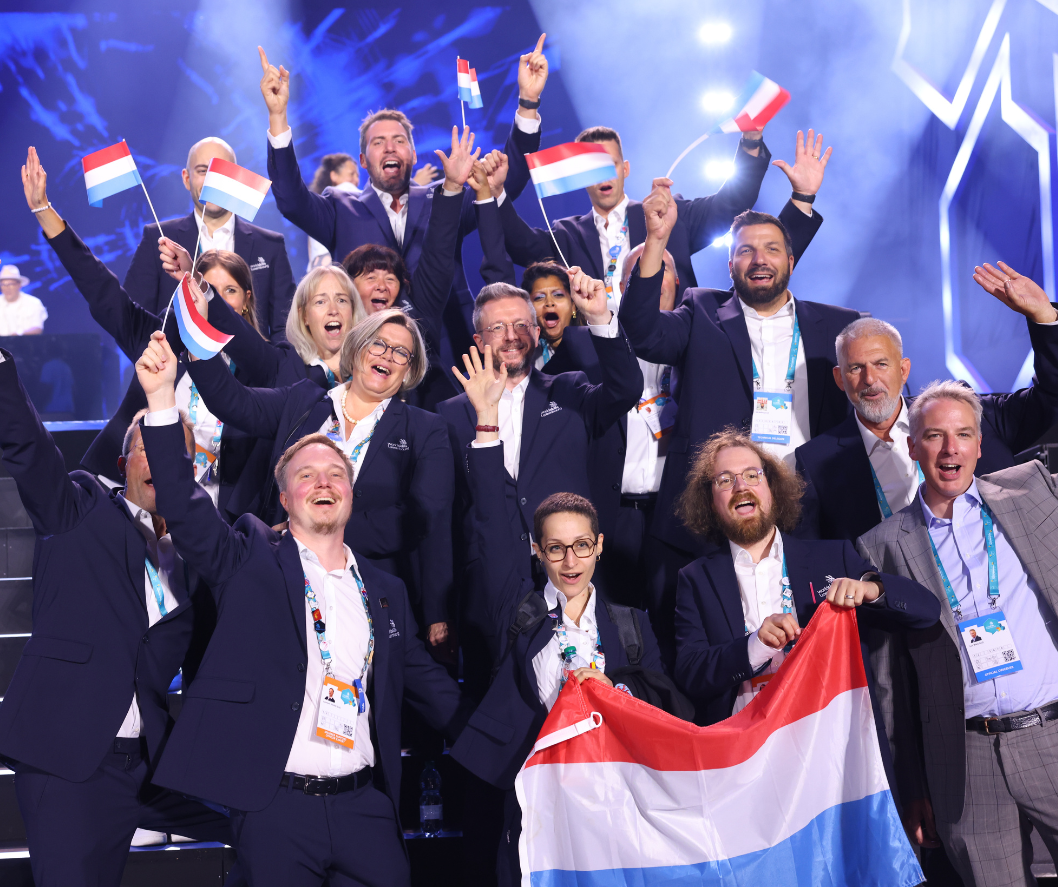 WorldSkills Europe Members voted unanimously in favour of Luxembourg's bid.
Luxembourg has been chosen as the host of the WorldSkills Europe General Assembly 2024.
WorldSkills Luxembourg presented its bid to WorldSkills Europe Delegates at the 2023 General Assembly in Gdańsk, Poland today (6 September 2023), after which Member countries voted unanimously in favour of the bid.
Luxembourg's hosting of the WSE General Assembly 2024 highlights its ongoing commitment to promoting closer cross-border exchanges between European nations with the goal of increasing the attractiveness, growth and development of technical and vocational education and training for young people.
In June 2022, Luxembourg's joint bid with Germany to co-host the tenth EuroSkills Competition in Düsseldorf in 2027 was accepted by a unanimous vote by Members. The ground-breaking moment marked the first time in WorldSkills Europe's 15-year history that two nations have been confirmed as joint hosts of a EuroSkills Competition.
"Luxembourg has already demonstrated strong commitment to improving our world through the provision of world-class training and standards in professional skills. Hosting a General Assembly will contribute significantly to furthering the development of WorldSkills Luxembourg on a national level and to the ongoing positive impact of the WorldSkills movement in Europe," said Teija Ripattila, Chair of the Board, WorldSkills Europe.
"Congratulations to the whole WorldSkills Luxembourg team. We are already looking forward to what looks set to be a highly informative and action-packed General Assembly in Luxembourg next year," added Ripattila.
Luxembourg's proposed events to be integrated as part of the General Assembly 2024 programme would include participation from the Luxembourgish Ministry of Education, Children and Youth, which would see current and potential new concepts and approaches to competition-based learning discussed and explored by all 32 WorldSkills Europe Member Countries.
Gil Belling, President of WorldSkills Luxembourg, said: "We are extremely proud of this outcome and would like to thank all Members for their unanimous vote and support. Hosting the WorldSkills Europe General Assembly 2024 is an immense honour for WorldSkills Luxembourg and a historical moment for our country as well as proof of our long-term dedication to the WorldSkills movement and its missions. We are excited to welcome all of you in Luxembourg and explore together innovative approaches through new projects such as "Level Up".
On the road to EuroSkills Düsseldorf 2027, hosted by WorldSkills Germany and WorldSkills Luxembourg, this event will be a major contribution to the development of vocational education and training in Europe.
The General Assembly Luxembourg 2024 will be held at the Novotel Luxembourg in the Kirchberg area of Luxembourg City. The areas is home to one of several seats of the European Union and to other institutions such as the Court of Justice of the European Union, the European Court of Auditors, and the European Investment Bank.
The Kirchberg area is also famous for its cultural landmarks and places of interest, such as the Museum of Modern Art (MUDAM), the Philharmonic Orchestra, and the early 18th century fortification, Fort Thüngen.
Side activities for a General Assembly hosted by Luxembourg could potentially include a guided tour of Luxembourg City's Old Town, which is a UNESCO World Heritage Site, and a visit to the European Museum in Schengen.
The General Assembly is the highest authority of WorldSkills Europe. The General Assembly 2024 will include meetings of the WorldSkills Europe Strategy and Competitions Committees, Marketing and Communications Officers, and WorldSkills Europe Sponsors and Partners.
Learn more about Luxembourg
The Grand-Duchy of Luxembourg is a small, landlocked country located in Western Europe between Germany, France, and Belgium. It covers 2.586,4 km2 and has a population of around 660,000 (255 people per km2).
As one of the founding members of the European Union and seats of several European institutions, Luxembourg plays an important role as a place of networking and cooperation on an international level.
Luxembourg is multilingual, with three official languages (Luxembourgish, German, and French) and a very high level of English proficiency. Renowned for its strong economy, multiculturalism, and rich history, it is both rooted in tradition and embracing the future.
The country's vibrant capital, Luxembourg City, is connected to motorways to France, Germany, and Belgium. It is also connected to the European railway network and to an international airport. Since March 2020, all public transport in Luxembourg is free of charge.
Famous attractions in Luxembourg include the old remains of the fortifications, such as the casemates or the Bock, the picturesque alleys of the Grund district, the deep gorges of the Alzette and Petrusse valleys, or the Monument of Remembrance "Gëlle Fra".