Spectacular Opening Ceremony marks official start of EuroSkills Graz 2021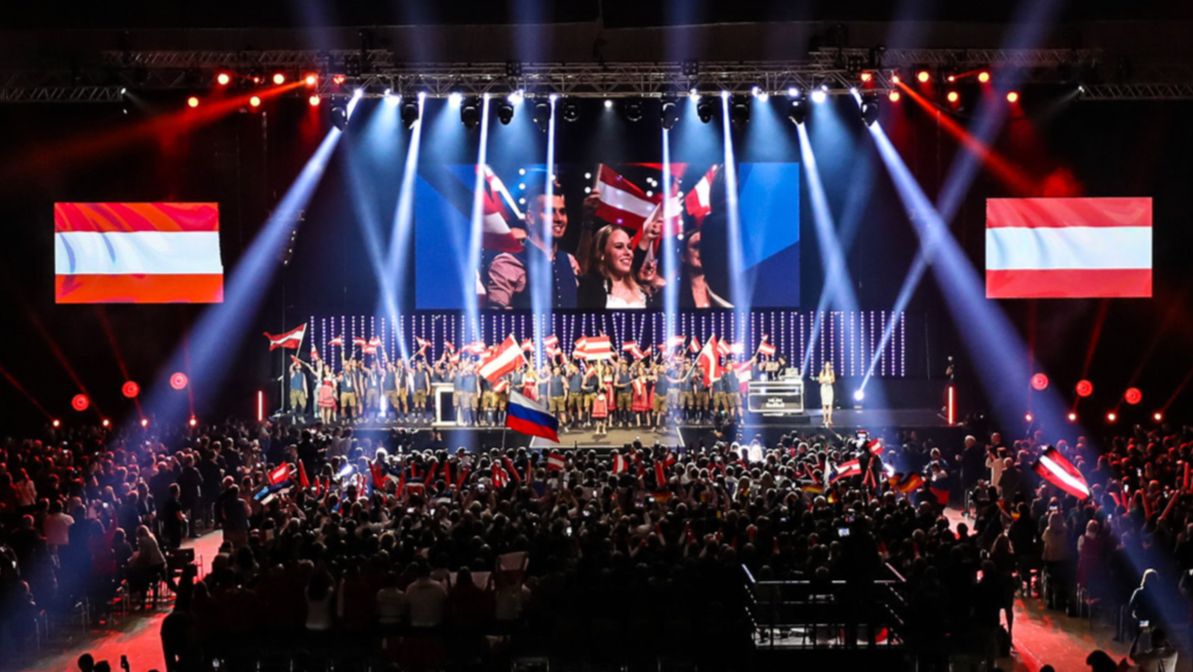 With a dazzling explosion of colour, music, and youthful energy, the 7th EuroSkills Competition was officially declared open with great fanfare in Austria yesterday evening (22 September 2021).
The highlight, as always at EuroSkills Opening Ceremonies, was the Parade of Nations, which this year included around 400 young professionals from 19 European countries who will compete for a chance to win medals and become recognised as the best of the best in Europe in 38 different skills and trades. Competitions cover a vast array of skills, ranging from web development to bakery; from joinery to floristry; and from automobile technology to mobile robotics.
Among the audience of almost 3,000 people watching the spectacular Opening Ceremony to cheer on the national and international competitors were President of the Austrian Federal Economic Chamber, Harald Mahrer, President of WorldSkills Europe, Dita Traidas, and Chairman of EuroSkills Graz 2021, Josef Herk.
The Minister of Education of the Russian Federation, Sergei Kravtsov, also attended as a member of the supervisory board of the autonomous non-profit organization, Agency for the Development of Professional Skills (WorldSkills Russia). Russia is the host nation of the next EuroSkills Competition, which will be hosted by the city of St Petersburg in 2023.
President of WorldSkills Europe, Dita Traidas, said: "Highly trained, skilled workers are the backbone of society and of our economy. The future belongs to young professionals all over Europe."
"To all the young professionals who are competing at EuroSkills Graz 2021 this week, I wish you the very best of luck. Regardless of whether or not you win a medal at the Competition, each and every one of you is a champion. You have been on an incredible professional and personal development journey and have accomplished a tremendous amount already in the lead up to this moment."
"You are following in the footsteps of thousands of skills champions who have competed before you, who have achieved and continue to achieve incredible success in their careers across a vast and continually evolving range of trades and industries," Ms Traidas added.
Austrian President Alexander Van der Bellen also addressed the crowd by video message. The stream of welcoming messages then switched to EU Commissioner for Jobs and Social Rights, Nicolas Schmitt.
Chairman of EuroSkills Graz 2021 Josef Herk, said: "The staging of this skills contest in Graz is the fulfilment of a long-held dream. The prevailing mood here is like that of a football stadium. It's a spirit that will also make itself felt during the competitions over the next few days. It will be a truly unique atmosphere."
EuroSkills is the biggest vocational education and skills excellence event in Europe. Founded by WorldSkills Europe in 2006, the biennial event brings together educators, young people, governments, and industries to help prepare the workforce and talent of today for the jobs of the future.
EuroSkills is even more significant in 2021 as the world now looks to skills, and highly skilled young workers to help lead the way forward in the global economic recovery from the COVID-19 pandemic. EuroSkills Graz 2021 plays a key role in helping to address the current challenge of the European shortage of skilled workers.
Spectacular acts
The Opening Ceremony was presented by Karoline Rath-Zobernig, wearing an outfit from top designer Eva Poleschinski, and Lukas Schweighofer, host of TV show "Guten Morgen Österreich". Some spectacular acts and a dance performance created and electric atmosphere.
The first of a total of three days of skill competitions start today (23 September 2021).
Any members of the public wishing to visit EuroSkills Graz 2021 must pre-register at: tickets.euroskills2021.com. Admission is free of charge.
-Ends-
Notes for editors:
COVID-19 regulations and measures at EuroSkills Graz 2021
The health and safety of everyone is the highest priority for EuroSkills Graz 2021.
The Organising Committee of EuroSkills Graz 2021 together with WorldSkills Europe has devised a catalogue of comprehensive COVID-19 preventative measures, in accordance with regulations set by the Federal Government of Austria, for the protection of everyone who attends the event.
Ninety per cent of all Member Country participants at EuroSkills Graz 2021 are vaccinated against or recovered from COVID-19.
Any members of the public wishing to visit EuroSkills Graz 2021 to cheer on the national and international competitors participating must comply with the COVID-19 regulations in place, by providing documented evidence of either: an approved COVID-19 vaccination; recent recovery from COVID-19 (180 days from the date the infection was first detected), or a negative COVID-19 test result. (Antigen test [taken within 48h] or PCR test [taken within 72h).
All visitors to EuroSkills Graz 2021 must pre-register, at tickets.euroskills2021.com. Tickets are free of charge.
In order to ensure all COVID-19 regulations are respected, visitor access is divided into three timeslots. The timeslots are: (1) 08:30 –11:30 CEST; (2) 11:30 – 14:30 pm; (3) 14:30 – 17:30, from 23 – 25 September 2021.
It is possible to register to attend for any or all of the timeslots available. For each timeslot, a maximum of 3,500 visitors will be permitted access to the 70,000 square metre venue, SFZ (Schwarzl Freizeit Zentrum). This equates to 20 square metres per visitor at all times.
For the latest information about the COVID-19 measures in place at EuroSkills Graz 2021, visit https://euroskills2021.com/en/covid-19-guide-en/.
For more information, please contact:
Tom York
Marketing and Communications Manager
WorldSkills Europe
tom.york[at]worldskillseurope.org