One year until EuroSkills Gdańsk 2023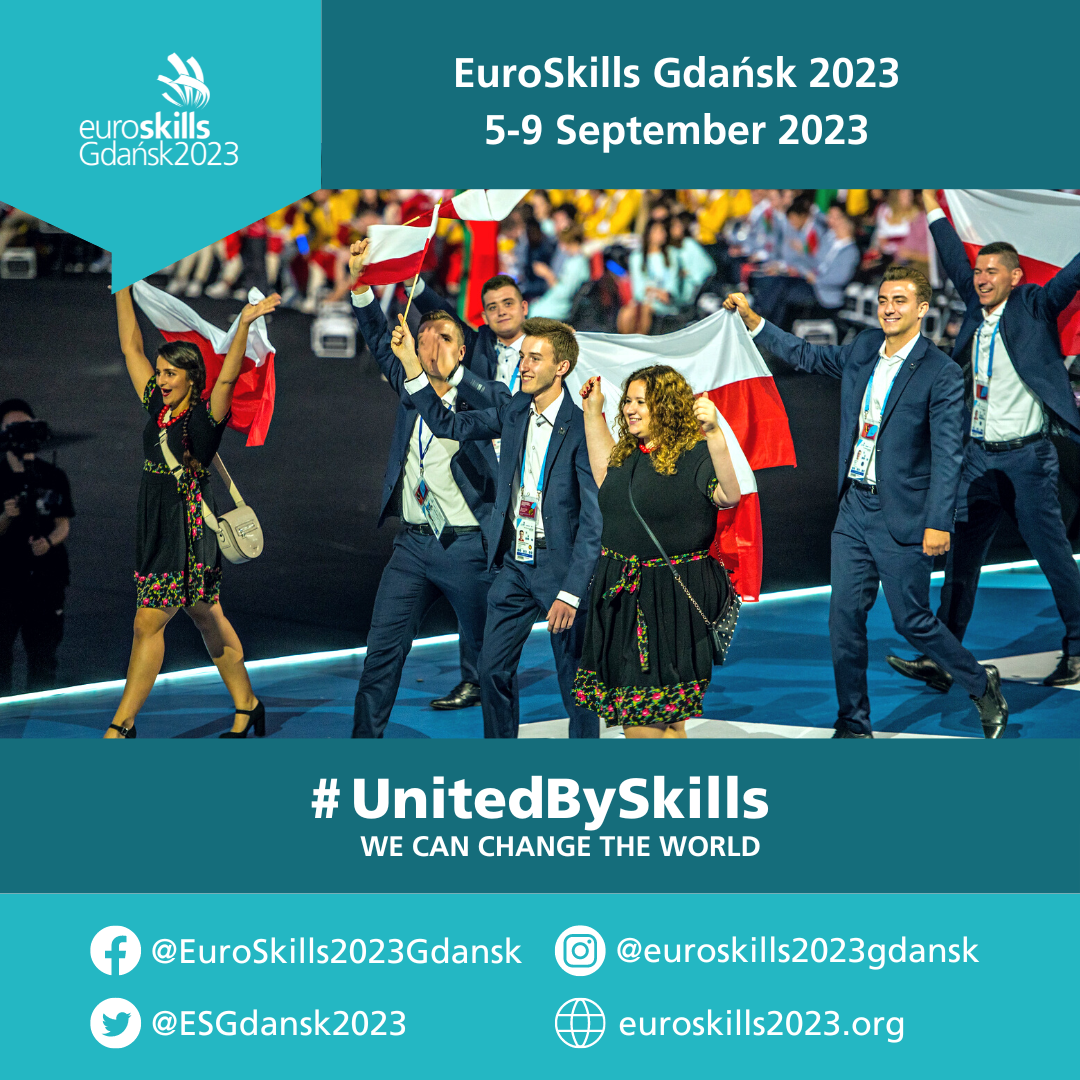 Official website and social media channels launched to mark one year countdown
There are only 365 days until the start of EuroSkills Gdańsk 2023. The eighth edition of Europe's biggest vocational education and skills excellence event will be hosted at the AMBEREXPO Gdańsk, Poland from 5 to 9 September 2023.
To celebrate the one-year countdown, a press conference was held at the University of Gdańsk Library and livestreamed online today (Monday, 5 September), during which EuroSkills Gdańsk 2023 launched its official event website and social media accounts.
For the latest news about the 8th biennial EuroSkills Competition, please follow:
EuroSkills Gdańsk 2023 will welcome 600 skilled young professionals under the age of 25 from 31 countries to participate in competitions in 43 different skills and trades. Around 100,000 visitors from across Poland and abroad are expected to attend.
The Competition is organised in partnership by Poland's Foundation For The Development Of The Education System (FRSE), WorldSkills Poland, WorldSkills Europe, the City of Gdańsk and AMBEREXPO Gdańsk.​​​
Paweł Poszytek, General Director, Poland's Foundation For The Development Of The Education System (FRSE), said: "FRSE has been involved in developing and promoting vocational education for years. We have recently signed cooperation agreements with over a dozen universities, which have taken patronage of many of the competitions, which guarantees high-quality preparation for EuroSkills Gdańsk 2023,"
Chair of the Board of WorldSkills Europe, Teija Ripattila, said: "EuroSkills is driven by the energy, talent, and enthusiasm of the young people who are at the heart of our mission – a mission which aims to bring educators, governments, industries, and young people together to work on the shared social objective of increasing the provision and development of skills. Through EuroSkills, we are able to showcase the highest standards of excellence which motivates more young people to develop technical and vocational skills,
"With just 365 days to go, preparation for the EuroSkills Gdańsk 2023 is already well underway; WorldSkills Europe welcomes the continued collaboration with WorldSkills Poland, FRSE and all organising partners to deliver an unforgettable Competition in September 2023 – uniting people through skills and showcasing the highest standards of excellence of young professionals across Europe."
At today's press conference, FRSE also announced the official opening of the Erasmus+ InnHUB in Gdańsk – a new innovation centre which focuses on European educational programmes and the promotion of the Erasmus+ offer. The centre will support cooperation between Pomeranian universities, local government and companies to make optimal use of EU funding opportunities.
For more information about EuroSkills Gdańsk 2023, visit: euroskills2023.org.